Back in January, I was interested and a bit excited to see that Google had rolled out some new answer cards in search results, and I wrote about them a few times:
Now I've seen a couple more kinds that I thought I'd also point out.
The first is a Youtube music player card, accompanied by information about the song: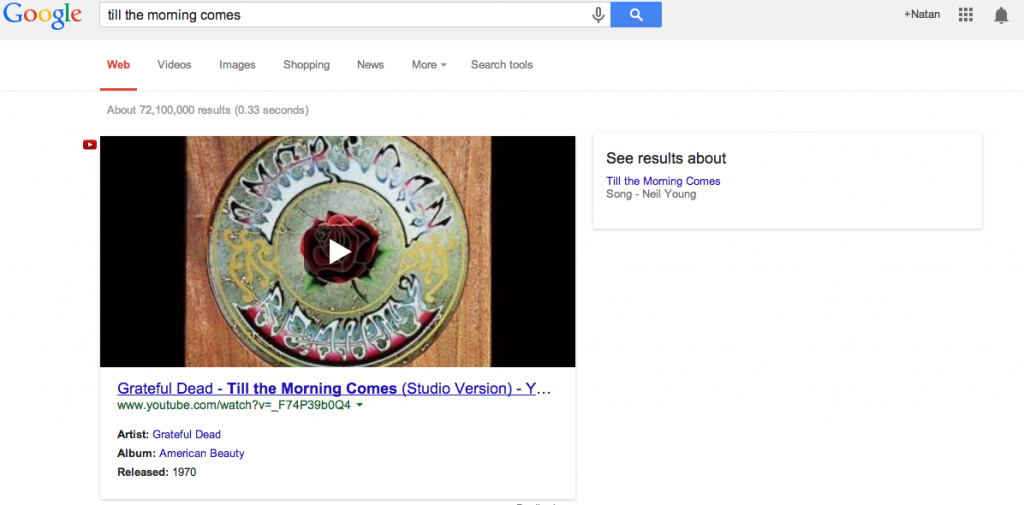 It's so big, taking up so much space on my computer screen, that I had to zoom out in order to get it all in the screenshot.
The image is a link to the Youtube page for this song, Till the Morning Comes by the Grateful Dead. The URL has the parameter &feature=kp, but I don't know what that might mean.
The second was for the query sous vide salmon temperature. It was an answer card that scraped the text "Our favorite temperature is 45 °C / 113 °F, which is rare. But you can go up as high as 52 °C / 126 °F for a firm texture," from Modernist Cuisine.
Unfortunately, I didn't take a screenshot of this one in time, as the answer card has disappeared. It appears that this result has changed, with Modernist Cuisine now ranking at the bottom of the first page, potentially ineligible for the answer card.