For the past week that I've been using an Apple Watch with an iPhone on iOS 13, I wake up every morning to this notification on my wrist: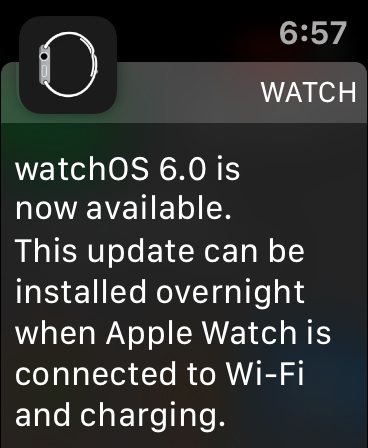 watchOS 6.0 is now available. This update can be installed overnight when Apple Watch is connected to Wi-Fi and charging.
I'm given three options: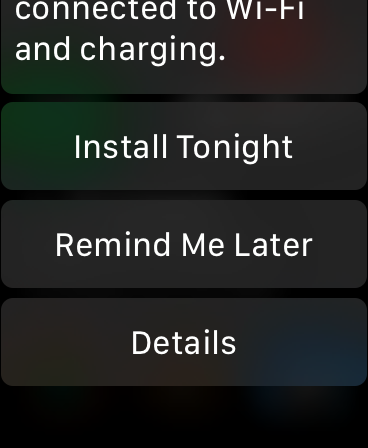 Install Tonight
Remind Me Later
Details
Every morning, I select Install Tonight. Then I get this message: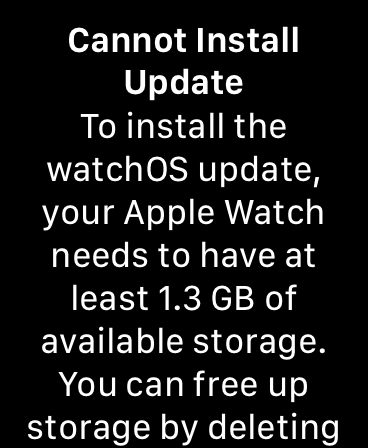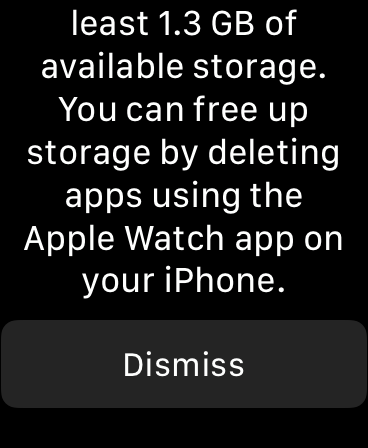 Cannot Install Update
To install the watchOS update, your Apple Watch needs to have at least 1.3 GB of available storage. You can free up storage by deleting apps using the Apple Watch app on your iPhone.
The only option I'm given is:
Dismiss
This is one of the most user-hostile "error" type messages I've seen in a long time, and one of the most un-Apple-like exchanges I've ever gotten from Apple. Here are some of the ways that it pisses me off:
It pops up every morning when I put the watch on, blocking me from doing whatever I was about to do.
It doesn't remember from day to day that I've already "accepted" the update multiple times in the past, and that the update has repeatedly failed.
It gives no context whatsoever about "1.3 GB." How much storage is on my Apple Watch in total? How much of that am I currently using? How many apps would I need to delete to free up space? Can it recommend any apps for me to delete that I haven't used recently?
There's no notification at all on my phone that corresponds with what I'm seeing on my watch. Once I click past the notification on my watch, it's gone forever until I get it again the next morning.
The iPhone can be updated, even when it is very short on free storage space, by connecting it directly to a Mac via USB, but there is no option to do this on the Apple Watch, because under normal circumstances it only connects via wireless technologies. Yet Apple has for some reason decided to require a very large update and also to require that it be done over wifi, and to require 1.3 GB of free storage for it.
Why the hell does my watch require a software update that takes up 1.3 GB? That is about a thousand times heavier than what I would expect for an update.
I was delighted when Apple announced a new version of the Apple Watch that supports an always-on screen ("finally"), and consider this to be an example of the Apple Watch having reached feature parity with mechanical watches that have been "always on" for centuries (the "automatic watch," which does not need to be wound daily, was invented in the XVIII century).
But this sort of garbage is why I still can not recommend the Apple Watch uniformly to normal people.